CERTIFICATION Our fabric is premium quality and made with 100% GOTS certified, organic cotton. GOTS stands for Global Organic Textile Standard and is the worldwide leading textile processing standard for organic fibres, that includes social and comprehensive ecological criteria.
PROCESS Tiny Twig prides itself on innovative design for organic cotton baby clothing that is finally realised through a tough but established production process. Armed with GOTS certification at EACH step, we are proud that Tiny Twig is beneficial both locally and globally. And we are happy to share our yearly certification information!
DYEING Tiny Twig uses an automatic dyeing process and only GOTS-certified dyes. These dyes are non-toxic, sustainable and dramatically reduce our carbon footprint!
SAFETY Tiny Twig has the baby's safety as its highest priority. Every garment must and does pass the Needle Test before leaving our premises. After garment production, 3rd party agencies inspect every piece to ensure GOTS compliance. They test the flammability of fabrics and check for harmful chemicals in the prints and dyes. Additionally, Pull and Tensile Strength checks are performed on all accessories of the garments. Other tests include the detection of any small parts and sharp objects. Every garment MUST PASS each check before leaving our premises!
BUTTONING Only high-quality, eco-friendly coconut shell buttons and YKK snap fasteners are used in our garments. Extreme care is taken to attach them securely to ensure baby's safety.
WASH & CARE Our prewashed and pre-shrunk clothes are easy to care for! The colour and vibrancy remains intact for a long time, if following instructions are followed
Hand wash (do not wring) or machine wash cold with similar colours and NO bleach
Hang dry in shade or use low heat and tumble dry in dryer
Warm iron, if needed
Do not dry clean
INTERNATIONAL SHIPPING
Flat rate shipping of $49.95 for international orders (excluding customs duties/tax).
GIFT BOXING
Add Lovely Gift Box to Item(s) in your Cart

NEED HELP ?
See our FAQ or Get in Touch!
Why Tiny Twig?
Tiny twig clothes are made of super soft organic cotton that is certified
for its organic standards and sustainability.

SUSTAINABLE CLOTHING

CERTIFIED ORGANIC

ENRICHED COTTON

REWARD PROGRAM
Testimonials
Our Family Shares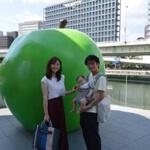 The fabric of your clothes is so soft that my baby looks comfortable.It's also great that it doesn't wear out even after being machine-washed and dried many times.
Mimoe Miyata, Japan
After finding out that my son had terrible eczema, I bought Tiny Twig garments as they're made of 100% cotton and GOTS certified cotton! Their clothes are 100% cotton and great for babies skin.
Daisy Pawley, Australia
Frequently Asked Questions